A festival event not to me missed.
Fermanagh Live Arts Festival welcomes home actor and Author Ciaran Mc Menamin with Screening of Jump, Guest appearance and Q and A with The Actor at Fermanagh House ,Enniskillen, Wed Oct 4th. Site Specific readings of Skintown by Ciaran Mc Menamin and Q and A with esteemed Author Carlo Gebler at The Buttermarket 7.30pm for 8pm . A first for Enniskillen Skintown Disco with the legendary DJ XRAY at BLAKES 7 at 11pm.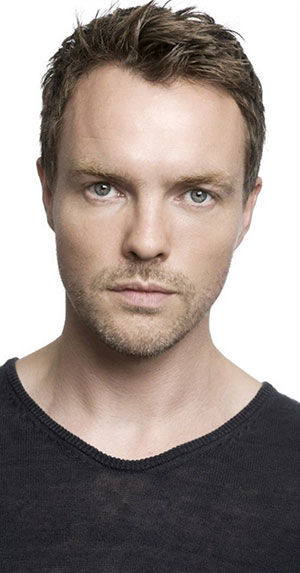 Fermanagh Film Club Present Jump with Q&A with Ciaran MacMenamin
The lives of four twenty-somethings collide one fateful New Year's Eve amidst the ancient walls of Derry, in a night of fast talk, accidents and intrigue. Johnny, a small- time crook and Marie, a dis-satisfied shop assistant, are both looking for a fresh start. Pearse has a bounty on his head for asking too many questions about his missing brother, Eddie Kelly and Greta is about to take her life. As the clock ticks towards midnight and the night's events expertly fall into place, Jump weaves an existential portrait of the characters' lives as their hopes, fears and secrets are revealed. Ciaran plays Ross, one of a pair of inept gangsters. The film hums with energy, black humour and violence; it is possibly one of the best films to come out of Northern Ireland. It had three nominations in the Irish Film and Television Awards and won the Bridging the Borders Award at the Palm Springs Film Festival and Best Feature at the Irish Film New York.
Fermanagh House Wednesday October 4 2017, 20:00
Full Price £5.00
FERMANAGH LIVE ARTS FESTIVAL 2017 WELCOMES HOME CIARAN MC MENAMIN…..
Fermanagh Live Arts Festival is delighted to welcome home the prolific and talented Ciaran Mc Menamin, actor of stage and screen and more recently author of Skintown. Festival goers will have the opportunity to hear and see Mc Menamin throughout The FLIVE Festival 2017."Ciaran has been a true and committed cultural champion of Fermanagh Live Arts Festival and supportive of artists young as well as emerging. We are excited to have Ciaran back for a number of key events that will appeal to all ages.
Wed Oct 4th kicks off with a very special guest appearance and screening of the Film JUMP at 8pm in Fermanagh House, featuring Mc Menamin , followed by a Q and A session. Audiences will be entertained by the talented actor who will provide insights into his craft as an actor, his successes, and the challenges as well as opportunities he has had in the world of theatre and Film.
Fri Oct 6th will be a very special evening, of site specific readings of Skintown with Ciaran Mc Menamin , followed by a conversation with esteemed author Carlo Gebler, with insights into the inspiration behind Skintown , the characters and his love of Enniskillen. All welcome to Rebecca's Coffee Shop in The Buttermarket, Enniskillen's Arts, Design and Craft Hub, for a very special experience .
Skintown Disco with DJ XRAY at Blakes 7 at 11pm Oct 6th.
And as if that isn't enough we have come up with not a Motown disco but Skintown Disco.
"I'm really excited about coming home to Enniskillen and reading extracts of my book Skintown, having a Skintown Disco with DJ XRAY is just brilliant. Nothing like a bit of Kelly's authenticity. He got in touch to say he read the book and loved it.So we hatched a cunning plan. "Ciaran Mc Menamin.
" I am absolutely delighted to be asked to spin some tunes in Enniskillen, as part of Fermanagh Live Arts Festival, in Blake's 7 at 11pm. More humbled to be mentioned in this fantastic book Skintown by Ciaran Mc Menamin"…..One Love."DJ XRAY.
"We are delighted to host Enniskillen's first SKINTOWN Disco, what began as a quirky idea has materialised into what will be a surreal experience for over 40s.An opportunity to move and groove with a soundtrack of Skintown, selected by the author himself, along with a few more 90s legends. To have DJ XRAY come to Enniskillen town to play the music of the time in a very special Disco in Blakes 7 is definitely a first ." Noelle Mc Alinden
Having his first novel published marks a lifetime ambition for actor Ciaran Mc Menamin, who recalls how drugs, raves and Northern Ireland's 'peculiar' black humour made their way into Skintown. '
HORRIFYING and hilarious' is one of Ciaran Mc Menamin's favourite reviews of his debut novel, Skintown.
Already, it has been compared to Irvine Welsh's cult Trainspotting novel, which Danny Boyle transferred to screen in 1996, Skintown (sobriquet for Enniskillen) doesn't pull its punches when journeying at high speed into the drug-addled raves of 90s Irish youth culture. It's a tricky subject, but the Enniskillen-born actor, whose 20-year career has included the title role in David Copperfield as well as film parts in To End All Wars and The Last Confession of Alexander Pearce, is unrepentant.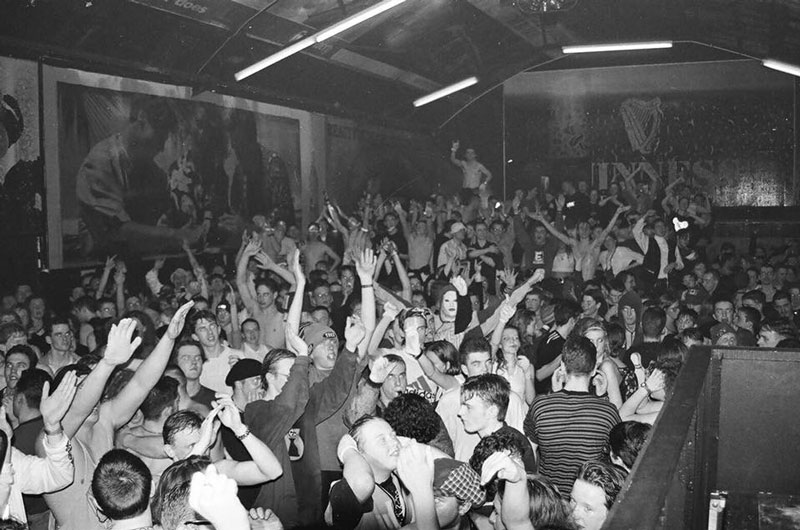 "It's not a moral story and there's no moral message about drugs," he says, categorically. "It's an honest portrayal of what was happening at the time and how kids were more worried about how to get to the next rave than what was happening around them. "It's humbling to be compared to Irvine Welsh, but Skintown is based around northern Irish humour and how, despite the backdrop of the1994 IRA ceasefire, young people's focus was still on music, love, sex and drugs."
"I wanted to make people laugh, at the absurdity of everything, and the humour is black, in a peculiar northern Irish dark way. I certainly didn't want to glorify drugs but I didn't want to preach either. It is what it is: a visceral, graphic story of our times." Strong language aside – and Skintown is not for the faint-hearted – the writing style is paradoxically poetic, with Mc Menamin attributing this to his inner poet, probably inherited from his uncle, JP Mc Menamin, to whom the book is dedicated. "He was a writer, a poet, and he was so funny," Mc Menamin recalls. "He wrote all Gerry Anderson's characters for radio and was my inspiration. The Fermanagh landscape played its part as well – I walked the boardwalk up Cuilcagh mountain recently with my dad and that scenery is all you need for creative escapism." "My sisters said reading the book was like reliving your youth and it is a bit like that. Youthful desires, mistakes and ambitions are universal, whether you're in Belfast, Dublin, Glasgow or Manchester." Mc Menamin, who says he is more proud of having his book published than being bestowed with any acting award, begins Vinny's escapade with an episode from his own life involving an incidental car ride with some local "hardmen".
Now based in London, the Saving the Titanic actor – who had a starring role in last year's acclaimed stage version of After Miss Julie at The Mac – has the writing bug firmly embedded and is already working on book number two.
"It's historical fiction, with a World War 1 element, and is based around my grandfather's experiences," says the plain-speaking graduate of the Royal Scottish Academy of Music and Drama and former pupil of St Michael's College, Enniskillen.
"I was good at English at school and I have always wanted to write, but I lacked time and patience. I am happy now to sit for days and not see anyone when, before, I would be itching to join my mates at the pub. Then, acting came out of left field and took over."
His mother can take the credit for that after she took him along to Ardhowen youth theatre in Enniskillen "on a whim" which led to a drama residential in Derry with the Ulster Youth Theatre.
"I was 16 and I remember it was an amazing experience," Mc Menamin says. "I had this overwhelming realisation that this was what I wanted to do." He jokes that he is also hoping to win a part in a film adaptation of Skintown after film rights were sold recently to Blinder Films – although first he must write the screenplay.
"It's a few years off yet, but yes, Vinny is definitely coming alive on screen," he adds. "I don't know who I would like to play his part – somebody much younger than me. Maybe, I could play his da."It's been a busy year with his recent wedding and the biggest role of his life to date – groom to his actress, now wife, Annabel Scholey..
Despite once claiming he would be crazy to get married, the 41 year-old bachelor tied the knot in Lusty Beg island in Fermanagh in May earlier this year.
Fermanagh Live Festival goers will have the opportunity to see and hear Ciaran Mc Menamin on Wednesday Oct 4th at the special Screening of JUMP followed by Q and A .
"The arts are increasingly overlooked in society as an integral part of what we say and who we are. In Northern Ireland particularly arts budgets have been slashed to near pointlessness. In this climate, the arts are more important than ever to retain a sense of community, to have a good night out and to remind our youth of the power of individuality. I am very excited to be coming home for the Fermanagh live arts festival. I love where I am from and it plays a key role in who I am and what I feel when I write or act. The chance to read from my novel and discuss were it came from in the place were it is set, was always going to be a no brainer. Delighted to be reading at The Buttermarket.Enniskillen is a very special place. among very special friends. Looking forward to many of the events in the Festival Programme, especially The Skintown Disco.
I am excited about participating in The Fermanagh Live Arts Festival and really looking forward to hearing JACK L in concert at Ardhowen Theatre on Sat Oct 7th. It's a great Festival Programme and so proud to be part of this year's Festival in my own home town "
Site Specific reading of Skin own by the acclaimed Actor and author will take place on Friday October 6th, at The Buttermarket at 8pm followed by a Q and A and Book signings.
SKINTOWN Disco with DJ XRAY in BLAKES 7 at 11pm at BLAKES 7 .
Penguin Random House publishes Skintown and the soundtrack to Vinny's time in Skintown is available to listen to at penguin books on Spotify.