'Skintown', DISCO... Dance to the Soundtrack of Skintown with DJ XRAY
We are delighted to host Enniskillen's first SKINTOWN Disco, what began as a quirky idea has materialised into what will be a surreal experience for over 40s.An opportunity to move and groove with a soundtrack of Skintown, selected by the author himself, along with a few more 90s legends. To have DJ XRAY come to Enniskillen town to play the music of the time in a very special Disco in Blakes 7 is definitely a first ." Noelle Mc Alinden  
---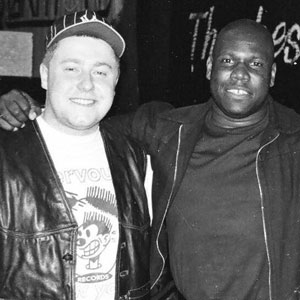 Having his first novel published marks a lifetime ambition for actor Ciaran Mc Menamin, who recalls how drugs, raves and Northern Ireland's 'peculiar' black humour made their way into Skintown. 
'HORRIFYING and hilarious' is one of Ciaran Mc Menamin's favourite reviews of his debut novel, Skintown. 
Already, it has  been  compared to Irvine Welsh's cult Trainspotting novel, which Danny Boyle transferred to screen in 1996, Skintown (sobriquet for Enniskillen) doesn't pull its punches when journeying at high speed into the drug-addled raves of 90s Irish youth culture. It's a tricky subject, but the Enniskillen-born actor, whose 20-year career has included the title role in   David Copperfield as well as film parts in To End All Wars and The Last Confession of Alexander Pearce, is unrepentant.
"It's not a moral story and there's no moral message about drugs," he says, categorically. "It's an honest portrayal of what was happening at the time and how kids were more worried about how to get to the next rave than what was happening around them. "It's humbling to be compared to Irvine Welsh, but Skintown is based around northern Irish humour and how, despite the backdrop of the1994 IRA ceasefire, young people's focus was still on music, love, sex and drugs."

"I wanted to make people laugh, at the absurdity of everything, and the humour is black, in a peculiar northern Irish dark way. I certainly didn't want to glorify drugs but I didn't want to preach either. It is what it is: a visceral, graphic story of our times."